First in Florida: Local girl gets service dog for nut allergy
"Chase is the only service dog of his kind in Florida, one that is trained to keep someone away from nuts. Chase, however, is expensive. The Lucarellis needed help. That's where the local charity "Red Sneakers for Oakley" stepped in."
From Devastation to Dediction: Boy's Death Leads Family to Save Lives
WEST PALM BEACH, Fla. — Merrill Debbs' face lights up when she talks about her son, Oakley. "Oakley loved life," she said. "He was a loving, wonderful child."
What a Mystery Allergic Reaction Looks Like
Why you need to tell the truth. One of the reasons so many people don't understand how dangerous food allergies can be is simple: they don't think someone they love or care about could die.
End Allergies Together launches global Public Service Announcement
What to do when a severe food allergy reaction (anaphylaxis) strikes with actors wearing Red Sneakers for Oakley to help spread awareness about the dangers of food allergies.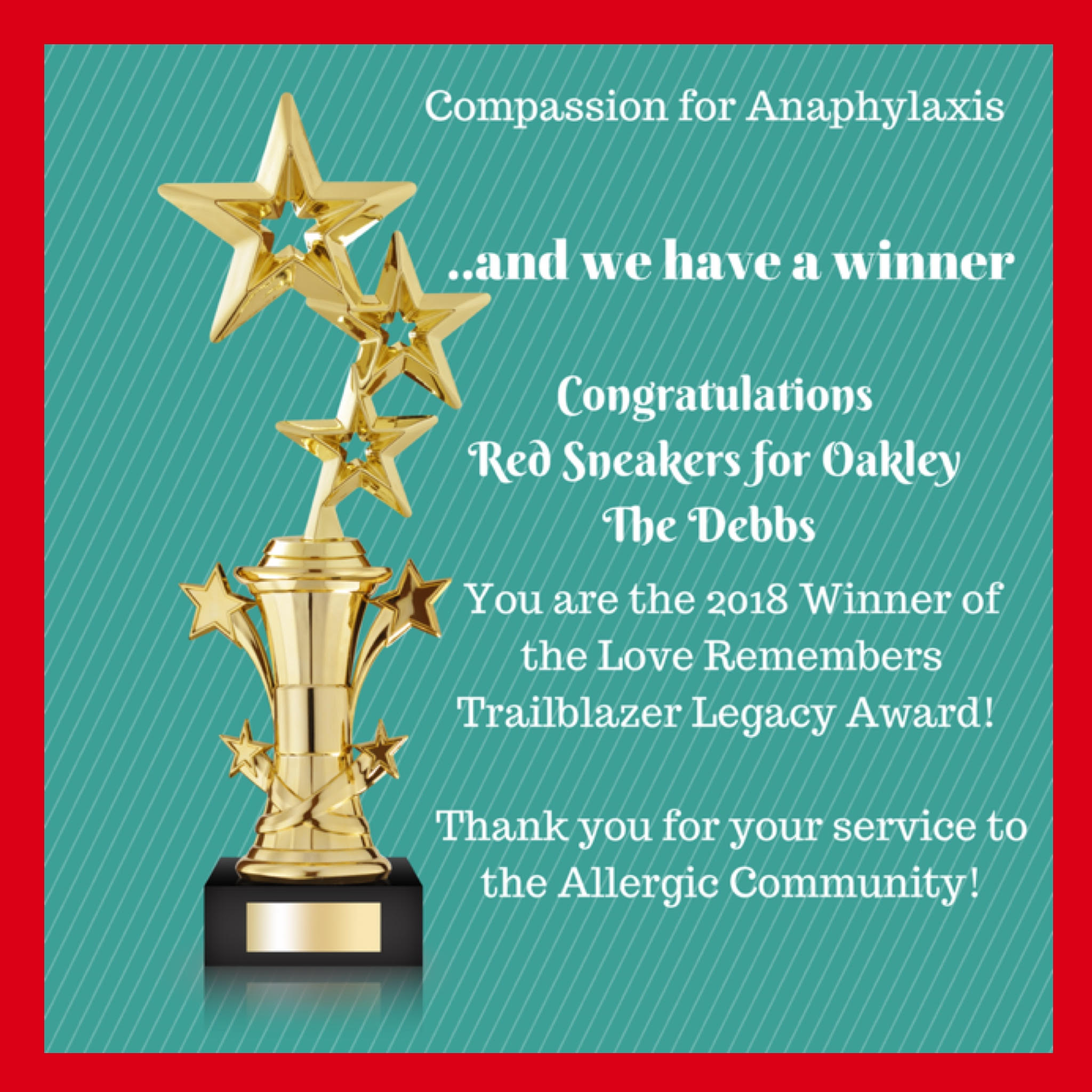 Compassion for Anaphylaxis Recognizes Red Sneakers for Oakley with the 2018 Trailblazer Legacy Award.
Compassion for Anaphylaxis Recognizes Red Sneakers for Oakley
Leading Food Allergy Organizations Join in Support of the Teal Pumpkin Project
We're excited to team up with this organization to create a happier, safer Halloween for all.
Red Sneakers for Oakley Fundraiser Raises Allergy Awareness
ABC WPBF | Palm Beach, Fla. —
The family of a young boy who died from a nut allergy continues to raise awareness.
listen to an interview with merrill debbs
E.A.T. and BBDO Launch PSA Addressing the Dangers of Food Allergies
-'text to give' campaign is dedicated to oakley debbs-
prnewswire - FAIRFIELD, Conn., July 19 2017
End Allergies Together (E.A.T.), a non-profit organization that funds research to help solve the growing food allergy epidemic, has joined forces with the award-winning ad agency BBDO to develop a public education campaign designed to advise people of all ages about the life-threatening dangers people with food allergies face every time they eat. The PSA, "Could You EAT?," airs online today and begins airing in movie theaters on Friday, July 28. It stars James Beard Award-winning chef Ming Tsai and is dedicated to the memory of Oakley Debbs, an 11-year-old boy who lost his life to nut allergies, as well as everyone who has lost their life to food allergies.
E.A.T. has also launched a text-to-give campaign, in which individuals can text "CURE" to 80077 to donate to research for a cure.
Commemorating the 1 Year Anniversary of Oakley Debbs' Passing
On November 26th, 2016, The Debbs Family lost their 11-year-old son, Oakley, on a holiday like so many centered around sharing food with family.

During all holidays Red Sneakers for Oakley urges families to take precautions to ensure that their family members and friends with food allergies remain safe with a downloadable list of 10 Tips below.